2 Videos from MoL: Click on picture
Messengers of Love, Journey of Love 2004-2012
MC Viet Dzung, introducing the evening program, MOL's Christmas Gala & Fundraiser, Dec. 1st, 2012,
Houston, TX
Messengers of Love Youth (MOLY) group, Christmas quartet to kickoff the evening
Testimony from be' Thuy Nhu, a student MOL sponsored and brought to
USA
for medical treatment
Mark Kingston, MOL Executive Director, raffle drawing
MaryLinh performing Christmas jazz
Dr. Tue Dinh, recipient of MOL's "Love in Action" award
Kim Phuong, entertaining guests
MOLer
Nam
in "You Raised Me Up"
Theresa Tran, MOL founder, in her Journey of Love speech
Theresa Tran introduced Lien Kingston, MOL's newly elected President
MOL's newly elected executive team, Mark Kingston, Kym Oanh Bui, Agatha Tran, Lien Kingston
Messengers of Love Youth (MOLY) officers
Fr. Hoang Bui, MOL's spiritual director, gave inauguration blessing to the new team
Lien
Kingston
's acceptance speech
Torie Vuong and Peter Yun acceptance speech
Hoai Nguyen performing "Holy Night"
Paris
by Night Truc Lam & Truc Linh, performing
Truc Lam & Truc Linh, hot and sexy
Master Guitarist Nguyen Dat performing classical guitar
Father Thanh performing "Dua Be" as kickoff of "Generous Heart Giving" ceremony
Live auction of the three religious statues
Nguyen Dat performed in entertainment part II
Truc Lam & Truc Linh in dance program
MOLers and guests dancing into the night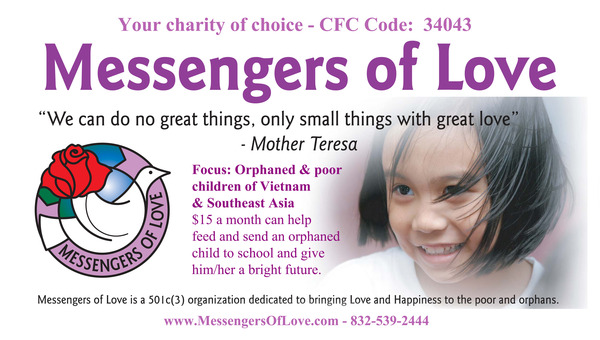 MoL xin mạn phép được báo tin tới cho quý vị làm việc cho US federal government là Messengers of Love (
www.MessengersOfLove.com
) đã được vào chương trình CFC (Combined Federal Campaign) năm thứ 2, code 34043. Messengers of Love là một tổ chức từ thiện thành lập vào năm 2004, based in Houston, TX nhằm mục đích giúp đỡ các trẻ em mồ côi, nghèo và những mảnh đời bất hạnh tại Vietnam. Kính xin quý vị làm việc cho Federal Government nhớ đến MoL khi make your pledge, và xin giúp MoL quảng bá tới các đồng nghiệp và bạn hữu.
Chân thành cám ơn quý vị,
LyBang Tran
MoL founder
We are happy to announce that Messengers of Love has been accepted into the Combined Federal Campaign charity list for 2012-2013. This is our second year as a CFC's member. Government employees can conveniently make contribution to MOL by payroll deduction. Please visit MOL's website:
www.MessengersofLove.com
to learn about MOL's missions and goals and what your dollar can do.
We appreciate your support and donations in the past. As you make your pledge this year, please remember the orphaned children of Vietnam and Cambodia by pledging to give to MOL. Please continue to help pass the words to colleagues and friends. CFC # 34043.
May you have a Merry Christmas and a new year full of blessings from above,
Theresa Tran, MOL's founder
Messengers of Love - A 501c(3) organization - Tax ID #11-3730103
A member of Combined Federal Campaign -
CFC Code 34043
Help Vietnam's orphans: MoL provides physical, emotional and educational assistance to thousands of orphans each year, bringing them happiness, hope, security and achieving lasting improvements.
3.1% P,L,O
Dear Friends,

We are happy to announce that Messengers of Love received approval for inclusion in the 2012 Combined Federal Campaign (CFC) charity list for a second year. CFC code 34043.

As a listed CFC member, Messengers of Love will be one of the charitable organizations available for automatic monthly payroll deductions for Federal employees. Employees can give by having a little deducted from each paycheck, or by making a one-time tax deductable gift. During the CFC sign-up campaign this fall, federal employees can list 34043 to give to Messengers of Love.

Please help by spreading the words to your colleages, friends and families who are federal employees to give to Messengers of Love projects, providing hope for orphans and poor children through education, nutrition, and medical care. The donation will impact the lives of over 3700 thousands children in Vietnam (25 orphanages and poor children from 26 villages), some in India (2 orphanages), and Cambodia (2 orphanages) and many poor leper families. Please visit
www.MessengersOfLove.com
for more information about MoL programs and services.

MoL goals this year:
a)

Add an additional 1000 children and 300 lepers to our Christmas Gift and Meal service (bringing the total served to 5000) which includes providing daily necessities such as food, soap, shampoo, toothpaste, toothbrush, and towel, but also includes a new outfit, a small toy, candies, and a nice sit down Christmas meal.
b)

Add an additional 30 students to MoL's current list of 185 students receiving scholarships. These are bright students who experience financial hardships and have to drop out of school in order to help out the family. $150 per year will give them the hope that they need to realize their dreams.
c)

Purchase 15 laptops for MoL's effort to empower and educate our children, through the "Computer Technology and English training" program in the summer of 2013. MoL's youth group MOLY has already lined up 5 local high school graduates who signed up to travel to Vietnam to teach and share American culture at 3 different orphanages. They will fundraise on their own to pay for airline tickets, and MoL will provide housing and food for them during their stays. It will give our children an opportunity to open their hearts to humanity, and will provide the orphans with training that will offer them a brighter future.
d)

Build 5 homes for 5 poor families. $1200 will give a homeless family a place to live and they will forever be grateful.
e)

Continue MoL's monthly sponsorship of 150 orphaned children so they can have nutritious food to eat, books and uniforms for school, and new clothes to wear for Tet.
DONATION
Your dollar can go a long way in making a difference in a child's life.

"Holiday Gifts & Meals": $10 per child will get each child a "Love" package which includes a brand new outfit, sandals, facecloth, towel, toothpaste, toothbrush, soap, shampoo, snacks & candies, small toy and sumptuous dinner with good nutritious food for Christmas and Lunar New Year. We also ship rice, buy bicycles, give other supplies in addition to the gifts. To give them happy childhood memories, we also send Santa Claus to hand deliver the gift and give good luck li xi money.
"Scholarship for a Poor Student": $10 per child per month will subsidize tuition, school lunch, book and uniform to send a child to school.

"Home for a Poor Family": Only $1200 can build a new 2 room cement home for a poor leper handicapped family.
See other MOL Programs
such as School & Orphanage remodeling, Medical Services, Clean Water System for a village, Invest in a Child's Future.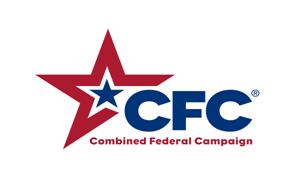 Federal Employees - Use CFC Code 34043

MessengersOfLove.com
About Messengers of Love
Messengersof Love (MoL) is a 501c(3) non-profit organization - Tax ID #: 11-3730103. Member of the Combined Federal Campaign - C
FC Code: 34043
PURPOSE: MoL started with the purpose of sponsor, help, bring love and happiness, special childhood moments to the orphaned and poor children of Vietnam.

BACKGROUND: Each year, thousands of children in countries such as Vietnam are abandoned by their parents for reasons such as illness, death, and
economics hardship. These children end up on the streets or in orphanages. According to Unicef, there are over a million children in Vietnam who are orphaned and live on the street or in orphanages. These children lack access to essential health services, suffer from hunger or even starvation, experience mental and physical health problems. They have no hope of a future and have no one to love.
Children who grow up unloved and abandoned will often experience low self esteem and emotional insecurity, which could adversely affect their futures. Through our love and support, we can make a positive impact on a child's life, and
brightening their future. Their future will be improved because they have been physically and emotionally nurtured, they will grow up confident and emotionally secure, and will be more likely to treat others with kindness.
ACCOMPLISHMENTS:
* MoL started the "Holiday Gift & Meal for a Child" program in Christmas of 2003 and Tet (Lunar New Year) 2004, with gifts for 150 children in 3 orphanages and for 1000 poor people who live in the high mountains

.

In Christmas 2011 and Tet 2012, MoL was able to expand our program to provide gifts to more than 3700 children including orphans from 25 orphanages (including 2 orphanages in India & 2 in Cambodia) and the poor children from 26 poor villages


* MoL provided Tet's gifts

yearly

for the last 5 years to over 300 families and 1000 adults including the poor, hand
icapped and ex-lepers.
* MoL currently sponsors 185 poor students, provides scholarships and subsidizes tuition, lunch money, uniform and books.

We have three graduating from college this year.
* MoL currently invests in 10 bright highly motivated poor students and send them to

boarding schools

enrolling English speaking curriculums.
* MoL recently added a Medical and Health Services program

supporting burned mission medical trips to Vietnam.

MoL had successfully sponsored 3 children, one severely burned child, one with impaired vision, and one with deformed facial pigmentation to come to the USA for medical surgery.
* MoL built 5 new homes a year, a total of 26 new homes for ex-lepers and poor families, and is currently building 5 more.
* MoL remodeled 3 schools in Hue, built 3 dining halls for three rural schools. MoL rebuild,

furnished and outfit

one orphanage in Ho Nai.
* MoL helped dig six wells for the poor villages of Gailai, provided 4 clean water systems for the villages close to Thua Thien and Kontum, and provided one acre of cashew trees to the poor village near Kontum through MOL development program.
* MoL provides yearly disaster relief for the past 5 years to over 200 flood victim families of central Vietnam and

for hurricane victims

locally in the USA.
PROGRAMS & SERVICES: Messengers of Love's programs are implemented yearly through the help of volunteers, both locally in the USA and abroad. The programs are designed to meet the needs of the individuals MoL serves and accomplish its goals and missions.
1) Sponsor an Orphan: monthly food, milk, supplies for orphaned children living in orphanages.

2) Educational Assistance for a Poor Student: provide assistance in the form of scholarship to poor students with difficult circumstances.
3) Holiday Gift and Meal: send Christmas and Tet gifts including new clothes, toiletries, food, candies, toys, meals to poor and orphaned children.
4) Building a Home for the Poor: build a home for a homeless leper or flood affected family.
5) Orphanage & School Remodeling: remodel and provide safe living quarter for orphans and poor students in rural villages.
6) Medical and Health Services: sponsor handicapped children for treatment in USA. Sponsor medical mission trip for burned mission.
7) Disaster Relief: Provide relief such as rice, food, blanket to disaster affected areas.

8) Invest in a Child's Future: provide best possible opportunities to highly motivated bright children to realize their dreams and potentials.
9) Computer and Technology Training: provide opportunities for high school students from the USA to travel to VN orphanages and teach orphans English and computer technology, empowering out children to excel and realize their dreams and potentials.
---
* CFC pledge for government employees, Messengers of Love
CFC CODE:
34043
* To send check, make payable to Messengers of Love
, send to:
•
Click Here To View MoL Christmas Slideshow!
•
Click here to view MoL President about MoL