Above: In a haunting echo of scenes from Hurricane Katrina, evacuees wade down a flooded section of I-610 in Houston on Sunday, August 27, 2017.
The nation's worst flood disaster since Hurricane/Superstorm Sandy continued to unfold late Sunday across Houston and nearby parts of southeast Texas, as Tropical Storm Harvey punished the area with record-shredding rainfall. As of 6:00 pm CDT Sunday, Harvey was centered about 10 miles northeast of Victoria, TX, moving southeast toward the coast at a mere 3 mph with top sustained winds of 40 mph. Despite its minimal tropical-storm-strength winds, Harvey is a superpowered rain producer.
Parts of the Houston area have racked up 20" or more in torrential rainbands since Saturday; another 10" – 20" or more is expected, with flooding expanding into parts of southwest Louisiana. The National Weather Service has kept the Houston area in a Flash Flood Emergency since Saturday night—a truly unparalleled stretch—and a Civil Emergency has been declared. And as if we needed any more trouble, a Tropical Storm Watch has been issued for the North Carolina coast as newly designated Potential Tropical Cyclone 10 threatens to strike as Tropical Storm Irma on Tuesday (see details below).
A disaster that won't stop long enough for us to take stock
The situation on the ground in Houston is gaining uncomfortable resonance with 2005's catastrophic Hurricane Katrina. Instead of compromised levees, we have an extraordinary prolonged and intense rain event atop one of the nation's largest and most flood-vulnerable cities. As with Katrina, there have been numerous reports of people trapped in attics, and countless roads across the city are impassable. Given the unrelenting rains and flooding, there is real concern that some people will be unable to leave their homes or places of refuge for multiple days—a potentially life-threatening situation for those with special medical needs or without enough food and water. It is too soon to tell exactly how many people are in such dire need, but the number of 911 calls and other cries for help suggest the number is far too large for comfort.
Harvey is sure to inflict a massive economic toll as well. Katina (2005, around $100 billion) and Sandy (2012, around $75 billion) were the nation's two costliest hurricanes on record. It's easy to imagine Harvey rising into that range, although experts say it's simply too soon to know for sure. Steven Bowen (Aon Benfield) told me: "We've got multiple days to go, and since we're already in uncharted territory for this type of flood event in Houston/Galveston, it's hard to fathom what might come next. There is no question that this is a catastrophic event that is going to have severe financial implications. The economic cost - from both direct damage and direct interruption impacts - is going to be well into the billions. We just don't quite know how many billions as of now. It's going to take weeks to fully take stock of the totality of the damage." Bowen points out that only 1/6 of Houston residents are insured through the National Flood Insurance Program, so thousands of people are likely to face devastating financial hits.
August 28, 2017, 12:36 AM
WU depiction of official NHC forecast for Tropical Storm Harvey as of 10:00 pm CDT Sunday, August 27, 2017. Harvey is predicted to carry out a very gradual arc southwest of Houston before accelerating away from the region on Wednesday.
Outlook for Harvey (and Houston)
Our top models have become a bit more consistent on Harvey's short-term future. The storm's center is now expected to move slightly offshore by Monday, still as a tropical storm, then return onshore by Wednesday on a northward track expected to be near or perhaps just west of Houston. As a result, a new Tropical Storm Warning has been issued from Port O'Connor to Sargent, TX, with a Tropical Storm Watch extending north of Sargent to San Luis Pass, at the southwest end of Galveston Island.
FORECAST POSITIONS AND MAX WINDS
INIT 28/0300Z 28.8N 96.6W 35 KT 40 MPH...INLAND
12H 28/1200Z 28.6N 96.4W 35 KT 40 MPH...NEAR THE COAST
24H 29/0000Z 28.3N 96.0W 40 KT 45 MPH...OVER WATER
36H 29/1200Z 28.4N 95.7W 40 KT 45 MPH...OVER WATER
48H 30/0000Z 28.8N 95.3W 40 KT 45 MPH...OVER WATER
72H 31/0000Z 30.5N 94.8W 35 KT 40 MPH...INLAND
96H 01/0000Z 32.3N 93.9W 30 KT 35 MPH...INLAND
120H 02/0000Z 34.0N 92.5W 25 KT 30 MPH...INLAND
None of this motion will be rapid, and Harvey's location by Wednesday may be less than 100 miles from its current position. Harvey could pick up slightly in intensity while offshore, but nearly half of its circulation has remained over water thus far, so a modest offshore motion will probably only lead to a slight boost in winds, if that. Harvey should pick up speed as it heads north on Wednesday, and conditions are likely to begin improving at last over southeast Texas.
A rain-making machine for the ages
Although the phrase is now a cliché, the rain-producing setup around Houston truly is a near-perfect storm. Harvey's extremely slow motion is allowing bands of rich tropical moisture to pour relentlessly northward across southeast Texas. Individual cells within these bands are racing northward, while the bands translate east very slowly. As the rainbands reach the Texas coast, they are encountering a weak surface front lying parallel to the coast and just inland. There is little temperature contrast, but the front separates east-northeast winds inland from southeasterly winds flowing toward the front from offshore. The result is converging air along the front, and a ramp-up in rainfall intensity as the bands slide north across the front.
Decaying tropical systems often produce more rainfall at night, similar to tropical cyclones over the ocean. Sunday night may bring another pulse of intensified rainfall—likely focused over or just east of the Houston area—with another relative lull possible at some point on Monday.
Rainfall production in southeast Texas may become a bit less efficient and slightly more patchy if dry air from western Texas works its way into the south side of Harvey's circulation. Still, the atmospheric processes locked in place will continue to produce extreme totals wherever training rainbands set up. Moreover, if Harvey moves just offshore and then arcs inland west of Houston on Wednesday, as predicted by NHC and our top global models, then Houston may end up in a more concentrated zone of torrential rain just northeast of Harvey's center from Tuesday into early Wednesday, before the heaviest rains finally abate.
The most recent five-day rainfall outlook from the NOAA/NWS Weather Prediction Center (WPC) resembles a broken record—or perhaps a sea of them. Once again, a pocket the size of Connecticut centered on the Houston area is projected to receive more than 20" over the next several days, on top of what's fallen through Sunday. Amounts topping 10" are predicted to extend across southwest Louisiana.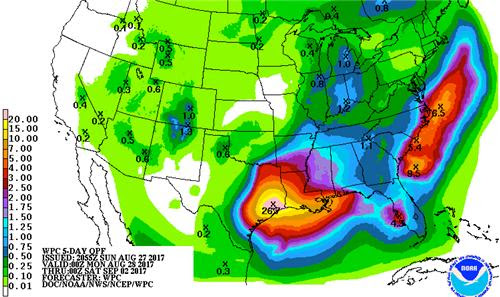 Figure 2. Five-day rainfall totals (in inches) expected from 7:00 pm CDT Sunday, August 27, through 7:00 pm CDT Friday, September 1, 2017.
Incredible as these amounts may look, they are entirely consistent with what multiple computer models are telling us. The HRRR model, which captured Saturday night's immense rains over Houston extremely well, now suggests that the heaviest totals on Sunday night may wind up east of the Houston metro area, with 10" – 20" possible toward Beaumont/Port Arthur and Lake Charles by Monday morning. The 18Z run of the NAM nested mesoscale model also suggests that the Houston area may get a semi-reprieve on Sunday night. However, it depicts intense rains wrapping back across the area later Monday into Tuesday, with 15" – 25" projected from Houston to Port Arthur by early Wednesday. The 18Z run of the GFS global model confirms the possibility of an additional 15" - 25" across a large part of southeast Texas, including Houston, by midweek.
Flood threat expanding eastward into Louisiana
Significant flooding has already begun in parts of far southeast Texas and southern Louisiana well east of Harvey. WPC has extended its unprecedented multi-day high risk area (extending through Tuesday) for excessive rainfall toward coastal areas of southwest and south central Louisiana. Much of southwest LA is already under a flash flood warning, and more than 5" of rain had fallen by late Sunday across parts of the area.
Tornadoes will continue to be a threat in the rainbands east of Harvey's center. The NWS Houston office has issued more than 100 tornado warnings since Friday, a record-smashing total, and 24 tornado reports were compiled by the NOAA/NWS Storm Prediction Center from Friday through late Sunday.
Harvey has already smashed too many rainfall records to tally at this point. More than 20" fell in 24 hours at the NWS/Houston office in Dickinson, one of the hardest-hit area communities. The official Houston-area record is kept at Bush Intercontinental Airport, well north of downtown. Even there, it appears a new 24-hour record has been set, according to WU weather historian Christopher Burt, who calculated a preliminary total of 17.67" between 7:53 p.m. CDT Saturday, August 26, and 7:53 p.m. CDT Sunday. This record could grow if more heavy rain falls by mid-evening. The previous record was 15.65" on Aug. 27-28, 1945, at Hobby Airport, which was Houston's officially designated NWS reporting site at the time. August 2017 is also the wettest month in Houston's century-plus record, with 25.50" through 2 pm EDT Sunday beating out 22.31" in October 1949 at Hobby Airport.
A number of rainfall amounts topping 20" were reported from 8:00 pm CDT Thursday through 3:00 pm CDT Sunday, mainly across south and southeast sections of the Houston metro area. Much of this rain fell in the 24-hour period from 3 pm Saturday to 3 pm Sunday. Top amounts compiled by NOAA/NWS/WPC include:
27.45" Dayton (0.2 mi E)
27.42" Santa Fe (0.7 mi S)
26.76" Dixie Farm Road
24.83" First Colony (4 mi WSW)
24.54" South Houston (4 mi SSW)
24.53" La Marque (1.8 mi E)
24.40" Beamer Ditch Hughes Road
22.08" League City (2 mi W)
21.62" Bacliff
20.84" Pearland (3 mi NNE)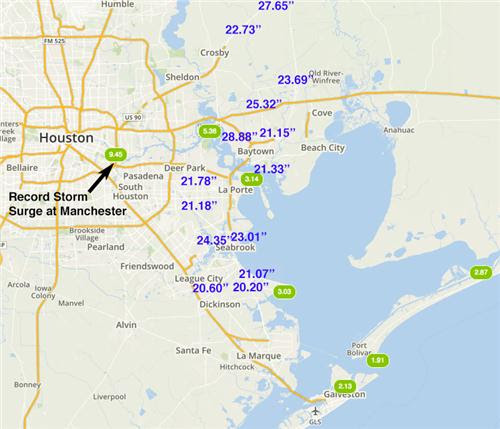 Figure 3. Storm surge heights in feet (green ovals) and 18-hour precipitation amounts in excess of 20" (purple numbers) recorded at 6 pm CDT Sunday, August 27. 2017. Image created using our Wundermap with the "Storm Surge" layer turned on, along with the "Weather Stations" layer with the "precipitation" box checked.
As of 6 pm CDT Sunday, at least six personal weather stations in the Houston area had received two-day rainfall totals over 30", and at least 13 PWSs that had received over 20 inches of rain, shown in the table below. The numbers given are the 2-day storm total, followed by Sunday's rain, then Saturday's rain. Given that this event still has 2 – 4 more days to go, it appears likely that some location in Texas will break the all-time record for U.S. rainfall from a tropical cyclone or its remnants: 48.00" in the Texas Hill Country from Tropical Storm Amelia of 1978.

36.91" 28.87", 8.04": Baytown, TX (Country Club Oaks)
33.77", 27.65", 6.12": Dayton, TX (Winter Valley)
31.40", 21.18", 10.22": La Porte, TX (Westend LaPorte/SJJC)
31.38", 23.01", 8.27": Seabrook, TX (Baybrook)
31.06", 20.60", 10.46": League City, TX (South League City)
30.48", 25.31", 5.17": Baytown, TX (Eastpoint)
29.45", 23.55", 5.90: Dayton, TX (Brookstone)
28.01", 21.07", 6.94": League City, TX (MarBella – Lorca Ln.)
26.74", 21.78", 4.96": Deer Park, TX (Park Place)
25.88", 21.15", 4.73": Baytown, TX (Chaparral Village)
25.46", 20.23", 5.23": League City, TX (Whispering Lakes Ranch)
24.87", 21.33", 3.54": Baytown, TX (TAJ)
23.26", 20.79", 2.47": Baytown, TX (Evergreen Fairway)
A record-high water level of 8.99' above ground on the east side of Houston
At 3 pm CDT Sunday, the Manchester tide gauge, located on an estuary on the east side of Houston, recorded a remarkable storm surge in excess of nine feet. According to storm surge expert Dr. Hal Needham, this surge was likely 95% due to the huge amounts of freshwater river runoff trying to drain into Galveston Bay from this morning's torrential rains. Winds at the coast in Galveston late Sunday afternoon were sustained out of the south to southeast at 24 – 28 mph, with gusts to 37 mph. These strong onshore winds were pushing a salt-water storm surge inland, opposing the freshwater runoff. The storm tide (combination of the surge plus the tide) at 3 pm was a little lower than the peak storm surge, since the tide was low: 8.99' above the high tide mark (Mean Higher High Water, or MHHW). This is a new record-high water level for the gauge, going back to when records began in 1998. The

previous record

at Manchester was 6.16' above MHHW, set on 9/11/1998, during Tropical Storm Frances, which made landfall north of Corpus Christi on September 11 as a moderately strong tropical storm. Rainfall from Frances peaked at 21.76 in (553 mm) in Goose Creek, on the east side of Houston, and caused severe flooding in southeast Texas and southwest Louisiana that cost $500 million.
Portlight disaster relief charity responding to Hurricane Harvey
15 rescued from Dickinson nursing home
The Portlight.org disaster relief charity, founded and staffed by members of the wunderground community, is responding to Hurricane Harvey. They need your help!! The flooding caused by Harvey will leave many people stranded, and experience shows that a disproportionate number of them will be people with disabilities and older adults. Already their Partnership for Inclusive Disaster Strategies Disability Hotline

(800) 626-4959

is receiving urgent requests for assistance for people with disabilities and older adults. They're rallying stakeholders, working to get people to safety, providing for any immediate needs for durable medical equipment and other assistive technology, and responding to evacuation and sheltering issues and problem-solving for a variety of immediate disability accessibility issues. Portlight has already heard from people being turned away from shelters, denied sign language interpreters, and many of the other issues the disabled have suffered from throughout past disasters. We hope you'll consider supporting Portlight's work with a donation.
Be safe, everyone! Our thoughts and prayers are with you.
Jeff Masters co-wrote this post.